Last update: June 2020
Best rainmeter skins 2020: Want to make your windows looks greater? Check out our collection of best rainmeter skins 2020 (rainmeter themes) to make your windows PC better than others!.
Windows has always been the most customizable and usability driven operating system; throughout the years it has provided its users with certain customizations which includes changing in-built wallpapers of your choice to various other custom themes. But this is not it, since there are some programs which deliver unimaginable adjustments to your windows desktop and "Rainmeter is absolutely one of the most famous of them". Rainmeter is a desktop customization program which is also free and easy to download. It provides innumerous transformations to your desktop: From clock to network statistics, from email to processor usage and RSS feeds. It is about time we should be grateful to the best Rainmeter program for offering such catchy skins according to everyone's taste.
In ought to cherish the tweaky features of the Rainmeter, you first have to download it on your PC. It doesn't comprise any compatibility issues since rainmeter goes with all windows versions; from XP to Windows 10.
12 best rainmeter skins that can lift up your humdrum desktop
---
1. Speed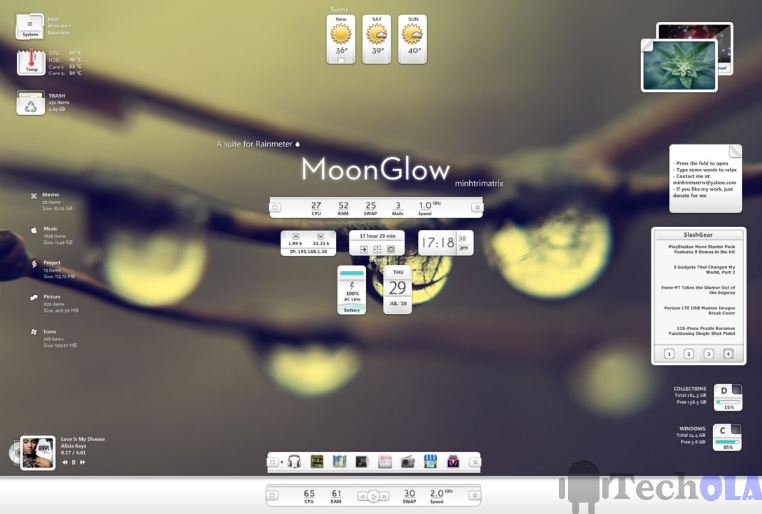 This cool rainmeters skin has some transparent and frosted glass effects. Speed can uplift ones mood too as it is very catchy and customizable. Its look is consistent and is able to show system's time through a clock; unread e-mails, RSS feeds, network status; RAM usage; and last but not the least, three day temperature forecast.
2. Razor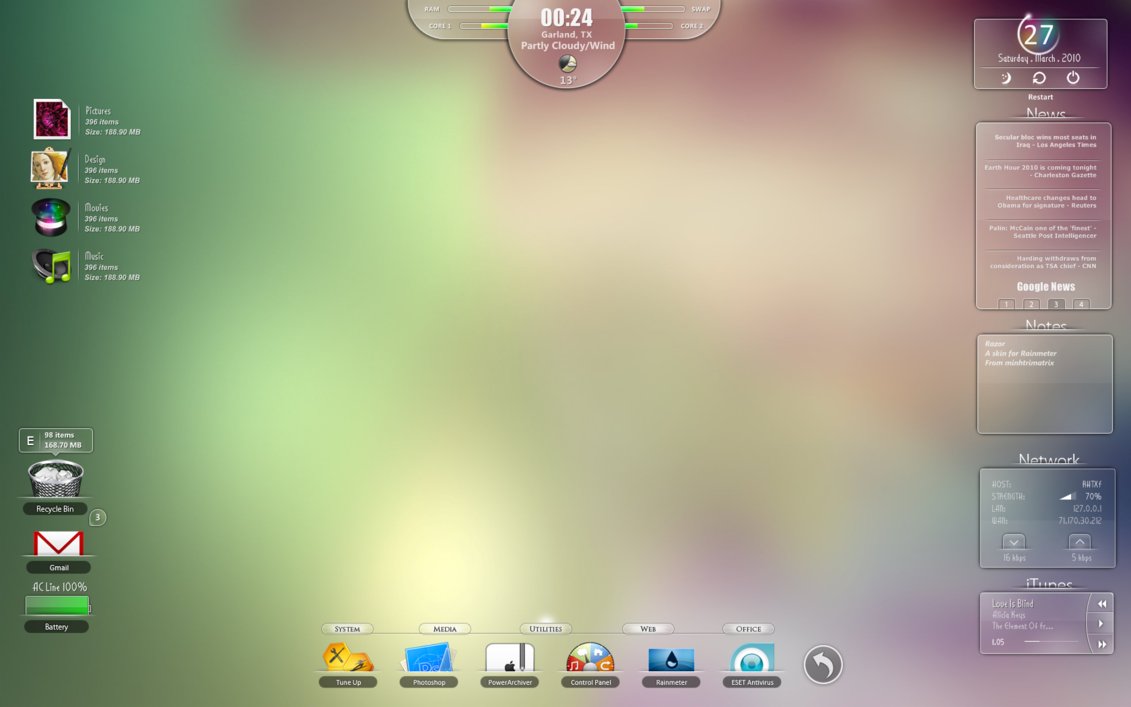 Being a very pellucid skin it catches attention of everyone and on the same hand it fully affects the whole desktop so one should choose the wallpaper wisely. With a minimalistic design, it offers date and time header, battery status, customizable clock, system libraries shortcuts, and network strength.
3. Before Dawn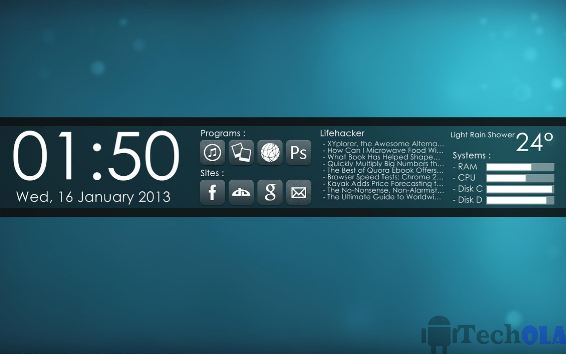 It is one of the effortless rainmeter's skins as it demands no adjustments. We only need to run before dawn and it will appear to be a large information bar on the desktop. Information displayed on before dawn is fully decipherable, and it shows Time and date, mostly/recently visited programs, RSS feeds and current location temperature.
4. ALIENS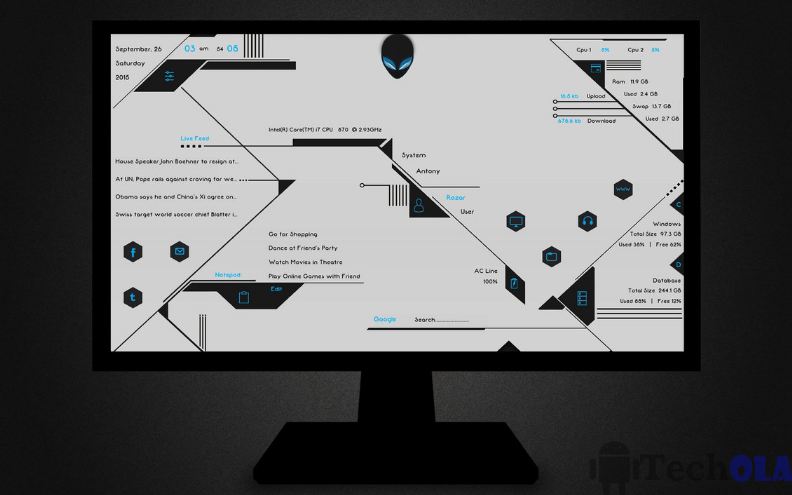 This is not just a rainmeter's skin but aside its captivity it offers ALIENS wallpaper too, and the skin and wallpaper both brings a classic look to your desktop. It includes disk partition shortcuts, time and date, network upload and downloading speed, and is quite configurable.
5. Senja Suite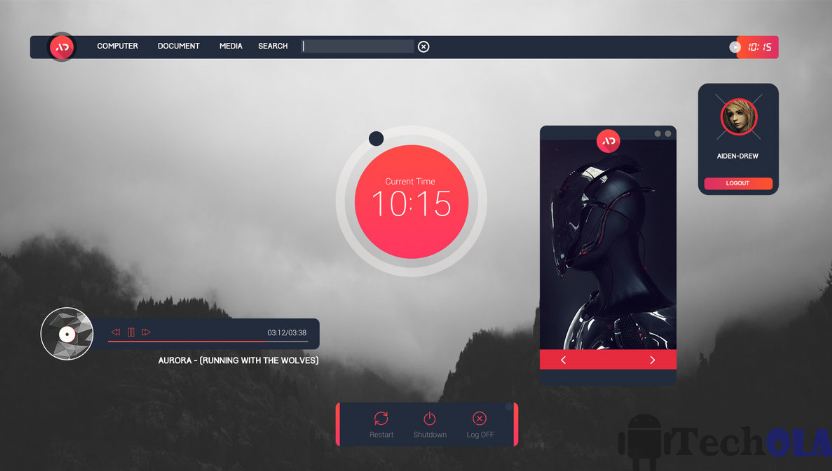 If you want simplicity in your rainmeter's skin then senja suite is definitely appropriate for you. It provides you with basic desktop functions like turn off/ shutdown/ log off button, time and date, user profile button with merge of an adjustable bar which shows folder shortcuts and slideshow of your favorite pictures, and other media stuff's information with control buttons. Unfortunately senja suite was a paid rainmeter skins.
6. Mass Effect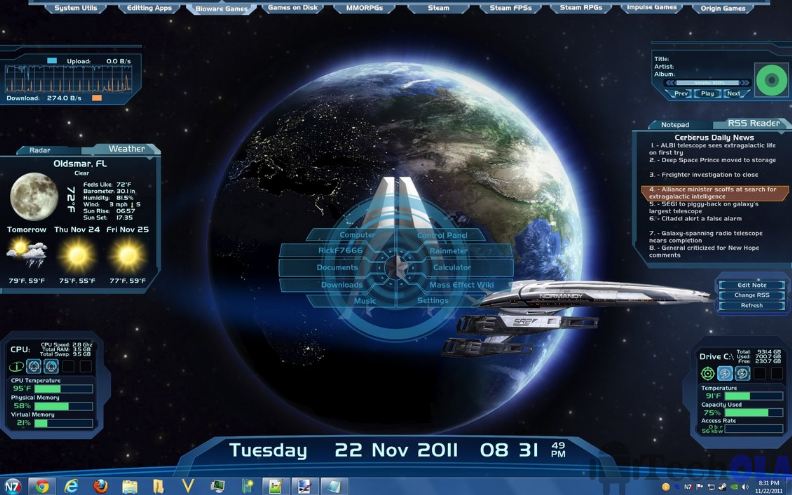 This cool rainmeter's skin is for Sci-fi fans and Mass Effect game enthusiasts. It comprises of uncountable features like time and date bar, hard disk information, control panel and media playback, network statistics. You will certainly feel as you're playing the game.
7. IronMan-Jarvis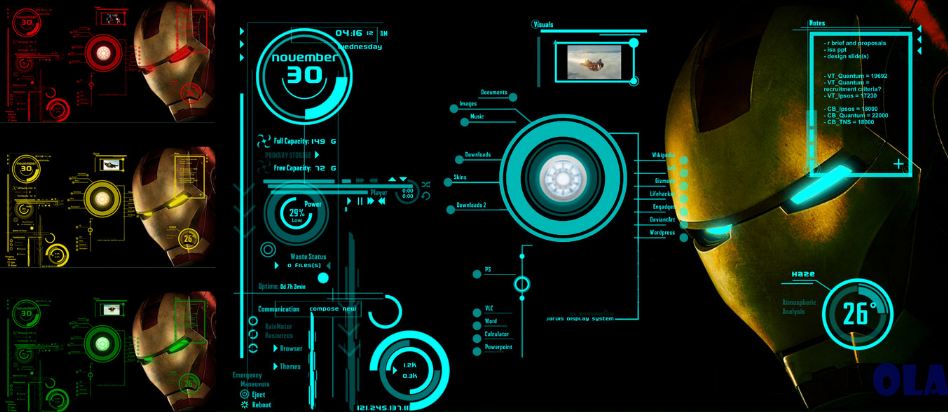 Rainmeter comprises a great variety of gaming inspired skins; it is one of the top rainmeter skins, and got some customizable modules like clock and date, temperature details, RSS feeds and some shortcuts to folders. Everything transpiring from an arc reactor core.
8. Tech-A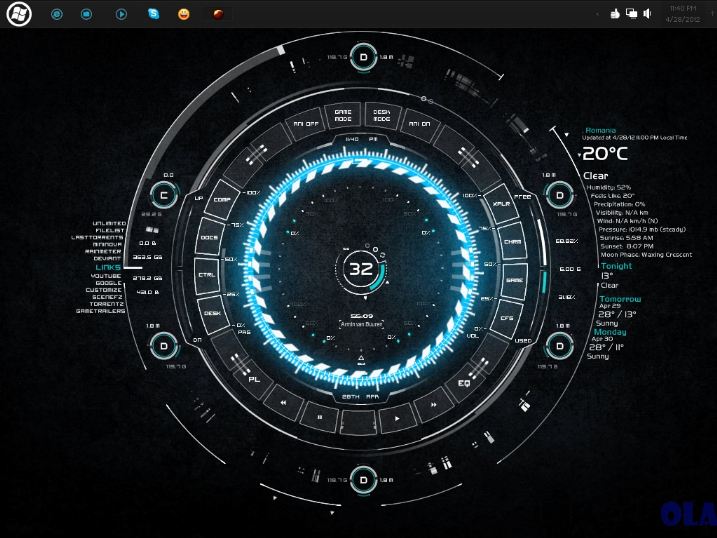 Fully dynamic and minimal at the same time. This top rainmeter skin tells about Per core CPU usage, date and time, shortcuts to folders like 'documents' and disk partitions, all in an animated, moving core.
9. PILEUS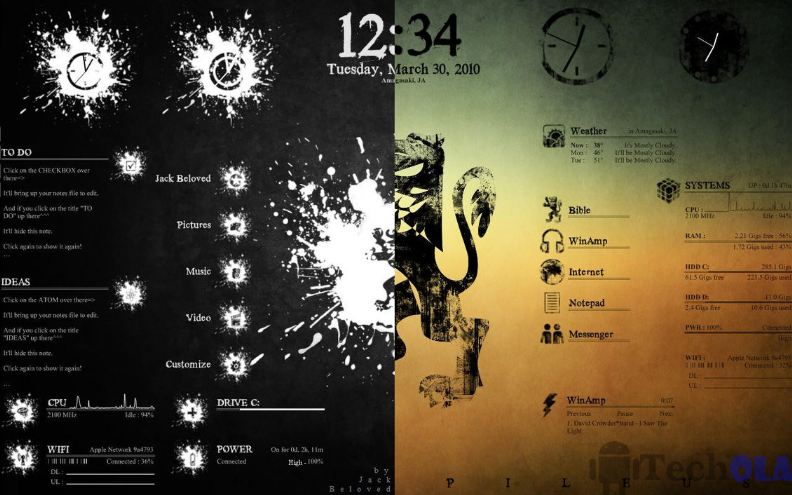 It is one of the innovatively designed best rainmeter skin, with a scrubbed effect on the desktop. It is considered a heavy skin as it has the ability to display immense information which includes RSS feed to power status to time and date; moreover it comes with lighter and darker alternatives.
10. Unity
Its eye-catching simplicity makes it better than any other rainmeter's skin. It offers numerous sub-modules and customizable behavior with functioning of time and date, shortcuts to folders, media player status bar and weather status.
11. Elegance 2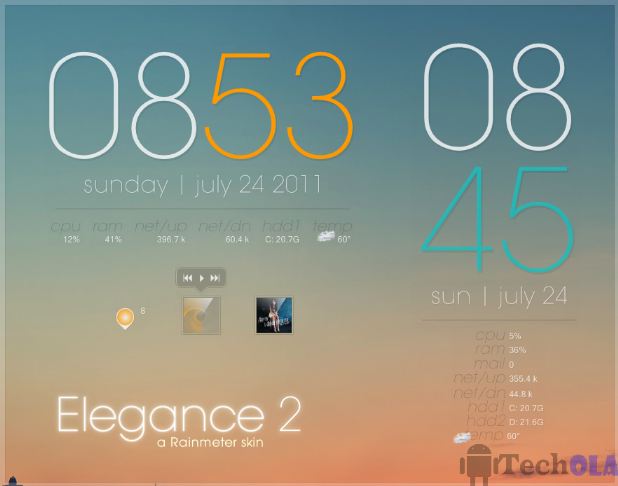 As the name suggests, it depicts only elegance and a soothing sentiment to the downloaders and can be easily merged onto the desktop background wallpaper. Legibility in fonts, RAM and CPU usage statistics, complete details of recycle binand media playback bar.
12. Newspaper Desktop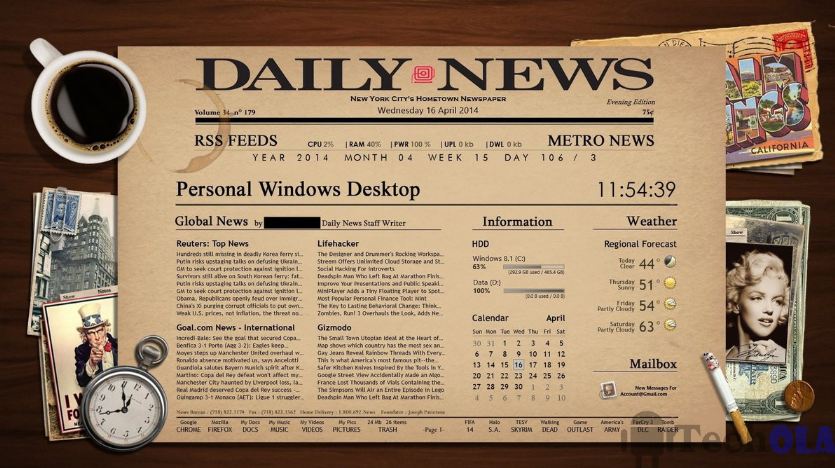 If you love to read newspaper then it's a go for you. What a unique format to be displayed onto your desktops?! All modules are arranged in a newspaperly style; date and time; network statistics; CPU and RAM usage and moreover disk space counter. Every arrangement is in accordance with basic newspapers. Columns of news story and everything else like paper.
Conclusion
These above mentioned skins are some of the top rainmeter's skins and secondly they can give a new customized look to your boring desktop. Gear-up to banish the old ways.
Download any of the above mentioned cool rainmeter Now!