Delete PayPal account: Are you looking for deleting the PayPal account in 1 minute then this article will help you to delete your PayPal account. The deleting process is very simple but many people do not know how to delete PayPal account. Paypal is the best money transaction application and website. You can use PayPal for doing international transactions.
Also read: IGTV on pc
Sometimes the PayPal limitations make us to delete the PayPal account and use another account or use PayPal alternatives. After deleting the PayPal account the account will permanently be removed from the PayPal databases. With the same e-mail ID, you can create a new PayPal account instantly. Please read the entire article to delete the PayPal account in a minute.
Also read: How to delete snapchat account
How to Delete PayPal account
Read the steps fully to know how to delete your PayPal account.
Also read: How to Download Paid Apps For Free on Android: Legal way
Log in with your PayPal account.
Go to settings>account settings. The screen will looks like the below image.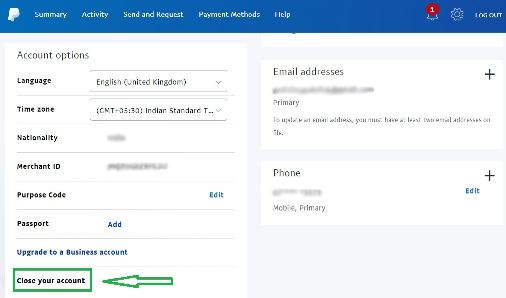 Click the close your account as marked in the above image.
A confirm message appears. click yes to delete a PayPal account.
Now you got an email from PayPal that your Paypal account is successfully deleted.
Now your Paypal account gets successfully deleted.
Must read:
Conclusion
I hope this article helps you to delete your PayPal account. If you still can't delete the Paypal account leave your comments below. Share this article with your friends, if this article is helpful to you. Thanks for reading.